Ironman 70.3 Vietnam
Ironman 70.3 Vietnam – May 8, 2016
After the Century Tuna Ironman 70.3 Subic Bay I was very fortunate to sign up with a new sponsor, Alaska Milk Corporation. Alaska has been a long time supporter of sports in the Philippines and a pioneer in triathlon bringing Ironman to our country (through Sunrise Events). As the Ironman 70.3 events are the most prestige events and the distance suits me well, this seemed like a perfect match.

The new sponsorship also brought some pleasant changes in my race schedule. Ironman 70.3 Vietnam was one of the new races I was going to join, and it meant first time for me to travel to Vietnam and race the Ironman there which was in its 2nd year! Since I had signed up I was really looking forward to the event which was also going to be my first race with Alaska and I really wanted to perform well.
I traveled to Danang 4 days ahead of the event and got a chance to acclimatize and rest up for the big day. The race venue was the splendid Hyatt Regency Resort and Hotel, a fantastic set-up for a race.
Before the event I met my team mates, other Alaska sponsored athletes, all of them world class athletes! It made me feel more honored to be part of this group. Most of them I had already met at previous events but I finally got the opportunity to get to know them more closely.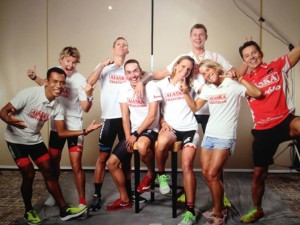 There were some pre-race activities like the Newborn Run and Ironkids which I joined and supported. Both amazing initiatives which show that Ironman events and especially Sunrise events really care for the community where the race takes place.
There were also some special activities for Filipinos, like the Catholic Mass and a pre-race dinner (additional to the carbo load party) that were highly appreciated and gave the chance to mingle with fellow Pinoy athletes.
Then it was finally race day!! As usual now that my wife can't always join me in the races, I talked to her early in the morning as it helps me to get focused.
Being held in Vietnam there was a category for Asian Elite which I had joined. I think this category is a great idea that totally makes sense and helps to promote triathlon on elite level in Asia.
The swim start was located just in front of the race hotel which made it easy to get to the start. The swim was a one lap loop. Us male Asian Elite started with the male pros in the first wave. I made a mistake in the beginning getting dropped from someone's leg and swam alone most of the time, which made up for a slower swim time, as it turned out later on (during the race I don't look at my watch).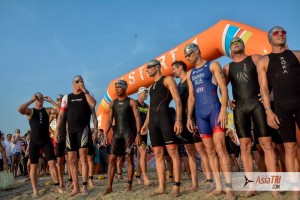 Out off the water I concentrated and in T1 was quick on my bike and started pushing. I didn't really know any of the other athletes racing in my category and just watched out for Asian faces. The bike was a two lap course and I pushed hard trying to catch some other athletes in the front.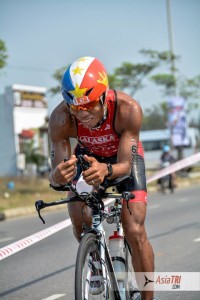 In T2 I had no idea how I was doing as I hadn't had a chance to really look at people I passed on the bike, so I decided to give it all in the run. It was a one lap, out and back run. Finally, it was really hot and there was no shade at all, so it was perfect for me. I did what I had trained for to do, run hard and as there were plenty well-equipped aide station, I got water and ice at all of them.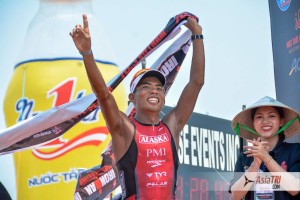 I only saw one Asian looking guy on the way back from the run turn-around, which later turned out to have raced in Age group, but still I had a good gap to him. I made it to the finish line and then knew that I had won my category!! It was amazing!!! That was what I had worked for and I hope I made my sponsors happy.
Overall, it was an awesome weekend!! Racing for the first time in Vietnam at this perfectly organized event was a great experience being part of Alaska team and surrounded by all these world class athletes will push me more also in my next races!!!
Photo credit: AsiaTri