Cobra Ironman 70.3 APAC Champs 2016
Cobra Ironman 70.3 Asia Pacific Championships presented by Ford, Cebu – Aug 7, 2016
Soon after my last race, the Regent 5i50 Subic, I left for training camp in Germany in order to prepare for the most important event of the race calendar, Cobra Ironman 70.3 Asia Pacific Championships presented by Ford.
I had some solid training time with my coach, Juergen Zaeck and fellow Alaska team mate and good friend, Dimity Lee Duke. I headed back to the Philippines mid-July in order to overcome jetlag and get used again to the hot and humid climate. Weather in Germany had been mixed with days of only 15 degrees C and many swims with wetsuit, so it was important to get used to the Philippine weather and sun, especially as Cebu usually is a very hot race.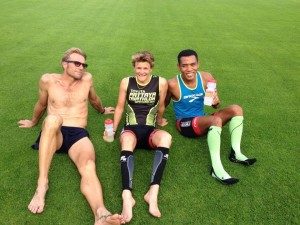 As it had also become usual for me, I traveled to Cebu one week in advance and was very fortunate to be hosted by Doctor Albert and Janet Solis in Cebu the days leading up to the race. The friendly couple who are also active triathletes gave me a warm welcome and the chance to train in Cebu the last week before the race. They even hosted a birthday party for me!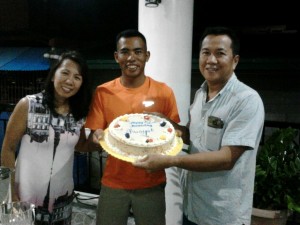 It was an overall positive experience and I felt good and well prepared when I moved to the race hotel, the beautiful Shangri-La Mactan on Thursday before the race. Once there the last 3 days before the big day past really quick and were filled with activities around the venue like registration, Alaska run, Ironkids race, briefing and also some interview. The Expo in Cebu is always a big event itself and it was great to meet up again with some of my supportive sponsors and so many other athletes and friends as well as my fellow Alaska team mates who I all so admire.
I didn't sleep well the night before the race and even woke up before the alarm. In spite of the lack of sleep I felt ok and was excited to race. Once again there were so many strong athletes in the Filipino Elite category and I was looking forward to race them all and try to defend my title. I had breakfast and prepared myself. Before I left the room, I talked to my wife, looked at my son's picture and prayed to God to give me strength.
I went to transition for a last check on my bike and did a short warm up before heading to the start area. This time it was the Ironman 70.3 Asia Pacific Championships, and over 3,000 participants were at the start including many Pro.
As usual, we Filipino Elites started together with the Pros. We were asked to move to the start line and at 6.20am the race was on! I felt good in the swim and found a good group to swim with.
Out of the water I didn't check my swim time but felt it had been ok. When I ran to my bike I heard people shouting splits and that I was about 5min behind the Filipino Elite leaders.
I tried to do a fast transition and then was out on the bike pushing hard. After the first turn around I sighted some other Elites and calculated the distance. After 50km I finally caught up to Banjo, Paul and we stayed close also with Joseph, and entered T2 almost together.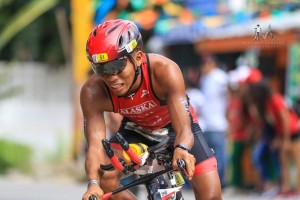 I did a fast transition and was told to be 2nd out on the run, about 2 ½ minutes behind Rambo who was in the lead since the swim. I knew he is such a strong runner and just told myself to stay focused and try my best to catch up to him. After 1km Paul caught up to me and we ran together for 3km. I wasn't sure about the pace but it felt really fast so I had to let him go. I was surprised in myself, and started to worry, thinking that maybe I hadn't had enough sleep and wondering why I wasn't able to stay with Paul. Suddenly I was tired. I just tried to run my own pace and stayed as motivated as I could, stopping in every aide station for drinks. I recovered a little bit and thought that hopefully I could maintain my position in 3rd place when all at once about km10 Banjo caught up to me. Again I was surprised about what was happening but tried my best to stay with him. I wanted to fight for the podium, even if only 3rd place. We ran together and finally , I told myself that the race was not over yet, not to give up and to fight until the finish line.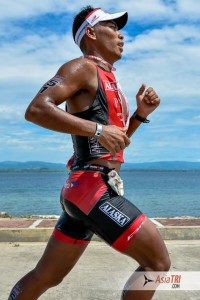 In the last 7km I sighted Rambo and Paul running close together and it gave me a push to pick up the pace, so I was able to drop Banjo. I felt good again and suddenly in the last 4km I could see the 2 leaders only about 300m in front of me. My dream to defend my title was close again, so I maintained my speed and caught them about 2km before the finish. They ran together and before they could see me behind, I passed them already very quickly, not wanting them to see that I was tired. I told myself not to look back, just to look forward to the finish and continue to think about my dream of winning. The last 1km I started cramping but ignored the feeling, and pushed even more, and in my mind I asked God for more strength for this last km.
I ran without looking back, just trying to hear if anyone was running behind me. When I already saw the finish line, the last 100m, I turned my head, didn't see anyone and then suddenly realized that I was about to win again the Filipino Elite category!!! I was overwhelmed even in my last steps to the finish line and really enjoyed the crowds then! When I finally crossed the finish line I just had God in my mind, thanking him for the strength! I wished my son and wife were there but I knew they had followed me online all day and just was thankful for that. This was my 4th time to win the Filipino Elite title and the race just got more special to me each year!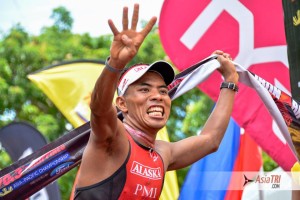 Before heading home there was another event scheduled for Monday morning. Sunrise Events and Ironman Foundation made a donation to a local school! The pros also joined this activity and we were able to paint and sign a wall. This was an awesome way of Sunrise Events to give something back and show that they care for to the community. It made me very happy to be part of it.
Overall, it was just an unforgettable time in Cebu and I would like to thank all my sponsors but especially Sir Fred Uytengsu from ALASKA for all his support and for bringing such a great race possible to the Philippines!!! Thank you as well to Ma'am Princess Galura and the whole Sunrise Events team for the organization of this amazing event and everything around it! Cobra Ironman 70.3 Cebu really is unique, and like Belinda Granger calls it "the Hollywood of Triathlon"! Already looking forward to next year!!!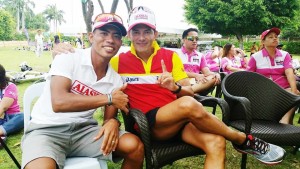 Photo credit: AsiaTri, Jamil Buergo, Mary Ann Saquing