Ironman 70.3 Vietnam 2017
Ironman 70.3 Vietnam – May 7, 2017
After Xterra Danao I only had a couple of days to recover, then it was time to travel again to Danang for Ironman 70.3 Vietnam!
As I had raced there for the first time last year, Danang and the race venue, the Hyatt Regency Resort and Hotel were a familiar place now and it felt nice to be back and meet many of my ALASKA team mates again!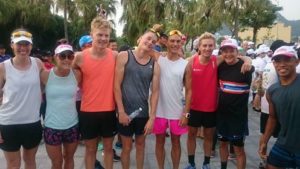 Like usual there were some pre-race activities, the Newborn Run and Ironkids which I was happy to joined and watch.
Then it was finally race day!! As usual I woke up before 4am for my breakfast and to have time to relax, get ready, talk to my wife and get focused.
Last year I was able to bag the Champion for Asian Elite category and I was determined to defend my title. This year the Asian Elite category had stepped up to a Pro level with certain requirements which had shrunk the number of participants in that category.
Having the swim start just in front of the race hotel made it really easy in the morning. Same as the year before, the swim was a one lap loop and we male Asian Elite started with the male pros in the first wave. I swam alone most of the time and had just a regular swim but really tried to make up for it once out of the water.
In T1 I was quick and started to push on the bike. I think it was really good that I was familiar with the course from the previous year and I felt very comfortable on the bike.
When I got back to transition I realized that I was leading my category and decided to go for a steady run. After the turn around I saw that my place seemed save, it was really hot with no shade at all on the run course, so I made sure to continue my steady pace and hydrate well.
When I crossed the finish line I was really happy knowing that I would maintain the Asian Elite title. Looking at the time it might not have been my best race but you can't always go for a PB! I was really pleased with the win and I hope I made my sponsors happy, too.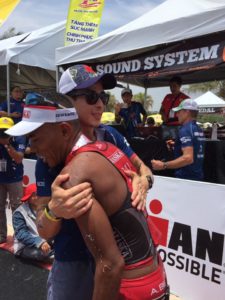 Overall, it was another great race weekend with lot's of friends and good times with my ALASKA team mates. Next one up, Regent 5150 Subic Bay!!!