Regent 5i50 Subic Bay 2016
Regent 5i50 Subic Bay – June 5, 2016
After Ironman 70.3 Vietnam I had 4 weeks to recover and get ready for my next race, the Regent 5i50 Subic Bay.
The short distance does not suit me as well as the 70.3 distance as I'm too slow in the swim, but the 5i50 is still a great race because of the fun course and because as usual for races by Sunrise Events, it's perfect organization and big Expo.
I went to Subic on Thursday afternoon, I was so happy my wife and son could travel with me this time.
Just during the week I had received my new bike, the Cervelo P5! It is my dream bike which had become possible to me thanks to my new sponsor ALASKA, Sir Fred Uytengsu and Ma'am Princess Galura! I felt from the start that it is a great bike, but knew that I needed some time to get used to it. On Friday I biked on the course, as I'm not based in Subic anymore, I had no chance to bike the course lately and at least I wanted to see how the bike responds in the turns ( – great – as it turned out!).
There were the usual pre-race activities like registration and Ironkids race only interrupted by the fact that I got sick Friday night!! I had been tired the whole day, but suddenly my stomach acted up and I got fever … Not a good sign, but I decided not to worry too much and tried to eat as much as my stomach would allow to recover and went to sleep at 6pm. Thank God the next morning the fever was gone and I felt better, but rather weak. The whole day ALASKA and the Sunrise Team took very good care of me and I continued to fuel well. I knew that maybe my body would not recover 100% until the race, but I got green light from the doctor to race.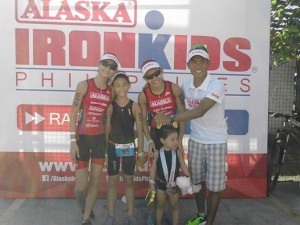 On race morning I felt ok and relaxed, not putting too much pressure on myself. I left the hotel with my fellow ALASKA team mates and other pro athletes for the swim start.
The swim was a one lap loop. We Filipino Elites started together with the Pro in the first wave. I was not fast enough in the beginning and got dropped from the group and ended up swimming alone for most of the course.
Out off the water I was quick in T1 and on my bike and started pushing. I didn't really know the gap to the other elites but I knew that at least Banjo, Paul and probably some other elites were in front of me.
I really like the 5i50 bike course and I felt good on my new bike and was able to pass some athletes. Back in T2 I had no idea about the splits and how I was doing but I decided to start moderate in the run. The sun was up and it started to get hot and as I had lost lots of fluid just 2 days early with the stomach issue, I didn't want to risk anything.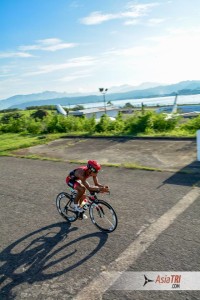 On the run I saw Paul and Banjo in front of me in the first turn-around and realized I was 3rd. I calculated the gap and at the second turn-around I already got a little closer, so I decided to finally pick up the pace. In the last 1km I had Banjo right in front of me and was able to pass him only before entering Remy Field, about 400m before the finish line. Then suddenly I also saw Paul and knew that he was still within reach and started to pick up the pace for the final sprint. At the same I heard Banjo shouting and Paul saw me behind him and sprinted to the finish line just a few seconds in front of me.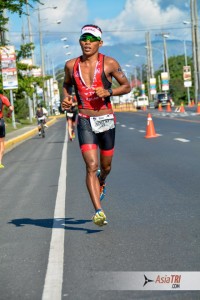 I was exhausted at the finish but so happy with my 2nd place in the Filipino Elite category and 3rd men overall! I definitely didn't expect that, not for the distance and because of my sickness. I was happy!!! Best of all was to have my son and wife with me at the finish line!!!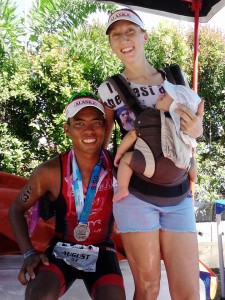 Overall, it was another awesome race weekend and a perfect event! Thanks to my sponsors for their support especially to my ALASKA Family and Sunrise Events!
Photo credit: AsiaTri