Xterra Philippines Danao 2017
Xterra Philippines Danao – April 23, 2017
After a good result at Century Tuna Ironman 70.3 Subic Bay I decided to try something different this year, to sign up for Xterra Danao, the off—road triathlon. I had no mountain bike but thanks to my amazing sponsor, Alaska Milk Corporation and Sunrise Events, I was very lucky to be set up with an awesome mountain bike through Trek Philippines.
It was a couple of weeks to go to the race and even tough I was training with a focus on Ironman 70.3 Vietnam, I mixed up my training with a few mountain bike sessions exploring the trails around my neighborhood in Tarlac City and San Jose, which by the way is an exciting location for mountain biking.
Then it was race week and I traveled to Cebu. I love going to Cebu as it is connected with so many pleasant memories about Cobra Ironman 70.3 Philippines and the trip to Danao was a very familiar environment as I used to spent a couple of days in Danao each year before the Cobra Ironman.
I had a chance to visit the swim, bike and run course and was impressed. This turned out to be a real adventure! Even more as I was a newbie in off-road racing. Especially the bike course seemed difficult and risky and I decided then, 3 days before the event, to take it easy for the race.
It was also interesting meeting some of the Xterra pros. They are off-road specialists and have a different profile than the typical Ironman pros. Around the pros and with the common pre-race activities, days were flying and quickly it was race day.
The swim was a beautiful loop in the Sanctuary area of Danao in front of the stunning race hotel Coco Palms Resort. We Asian Elites started together with the pro men. The swim was the only leg similar to the usual triathlons and unfortunately, I was alone most of the time as I could not stay with the fast swimmers.
Out off the water I was quick in T1 and on the bike adventure. It was a 2 loop course and as I had seen it before I was very careful. There were a lot of difficult downhills and for some parts I went off the bike and walked. It might not have been very professional, but safe as I didn't want to risk any crash or injury. This is where a lot of the other elites passed me which this time wouldn't drive me to go even harder.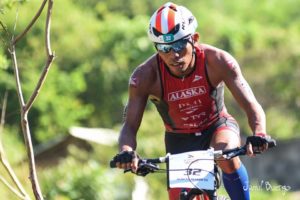 In T2 I had no idea how I was doing but felt I was far behind. Nevertheless, I pushed it on the run, which was also very technically but trail running is something I'm more used to and I really enjoyed it. I was able to overtake again some of the other elites and in the end managed to finish 3rd in the Asian Elite category! It was a surprise podium finish I was really happy about!!!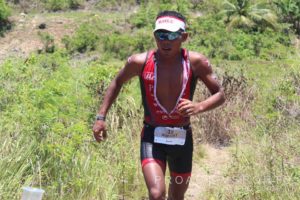 The after race activities like lunch and awarding were very pleasant in the beautiful Coco Palms Resort. Overall, racing Xterra was a very new but interesting experience to me and it was an awesome weekend!! The next day I got an early flight back home as it was time to recover quickly and get ready for Ironman 70.3 Vietnam!!!